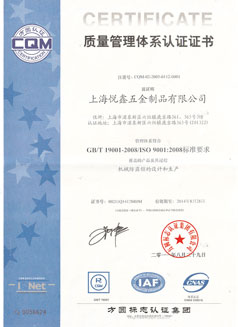 Yuexin set up its quality management system and the modes of the quality objective management in 2005, in the same year, Yuexin was granted the certification of ISO9001:2000. We carried out our work strictly according to the system and got some improvements.
From the establishment of the new management team, we pay more attention on the suitability, sufficiency and availability of the system. We built up a system management group at the representation of the general manager as the group leader, the system specialist as the deputy group leader and the ones who responsible for each department as the group members, which officially opened the new chapter for Yuexin's quality management system.
Yuexin has compiled more than 40 articles with regards to the quality management system until 2014. The system management group examines and verifies each department every month, which effectively corrects all kinds of problems during the execution and proved the whole quality management level. Yuexin will insist on the basis of the quality management system, implement and improve the system construction and construction standards, which will apply management basic for producing superior products and constantly strengthen the product competitiveness.
Yuexin's quality policy is that all for quality and everything for customers. All for quality means all the staff should participate in the quality management. Quality is the life of enterprise, and also is the base of the enterprise development. The work quality of all staff refers to the enterprise development, so only after achieving excellence in every process will Yuexin improve both the work quality and product quality. Everything for customers means that we should set up the concept 'customer first' and consider customers anytime. Only meeting the customers' requirements will Yuexin be accepted by the market, thus making the company establish itself in an unassailable position in the market.